Psoriasis can be seen in different levels including mild, moderate and severe.
In addition, there are different types of plates called gutta, pustular, erythrodermic.
It can also be named according to the region where it is seen. (Hand, foot, nail, etc.)
Plaque Psoriasis

It is the most common form of psoriasis. The red-pink color of the mother-of-pearl covered with dandruff is clearly seen as bubble-red patches.
Long-lasting plaque can be seen anywhere in the body, with knees, elbows, body and hair more often on the bottom.

Guttate Psoriasis
It appears as a small, red, rash like dandruff. It usually occurs commonly in the whole body. It is more common in children and usually occurs after an infection, especially after upper respiratory tract infections.

Pustular Psoriasis

It is seen only as tiny vesicles filled with inflammation in the hands and feet or spread throughout the body. When seen on the whole body, fever, fatigue and general malaise also occur and the patient needs to be hospitalized and treated.

Erythrodermic Psoriasis
It is less visible than other forms. It differs from the common redness and dander in the whole body. It is one of the severe forms of psoriasis and is associated with pain, burning, and general impairment. These patients are usually hospitalized and treated.
Psoriasis can be transmitted erythematically or pustularly from the casts. Once the pustular shape has been cleared, it can be transferred to plaque and guttate. In short, psoriasis patients may experience various types of disease during their lifetime.
Hand-Foot Psoriasis
It is just hand and foot involvement. This type can be mixed with eczema and fungus patients.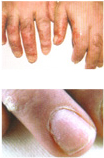 Nail Psoriasis
Psoriasis can also be seen in the nails in the form of pits or fat droplets at the point size. Sometimes thickening and color change occur under the nail.
These changes can occur with nail psoriasis as well as nail involvement can occur with time.
It can only be mixed with fungus patients when seen in the nails.